---
Posts Tagged 'PLM World'
Wednesday, June 3rd, 2009
Chuck Artymovich, director of operations, Lockheed Martin, presented yesterday on the Product and Process Lifecycle Management Strategy (PPLM) at Lockheed. It's interesting to consider the complexities of managing a 100-year-old lifecycle.
One thing he noted was you have to build the right product – but also build it perfectly. With fighter aircraft, tolerances are often 1/3 the width of a human hair.
I spoke with Chuck after his presentation and here is a short video of our conversation.
We also announced this week Lockheed's expanded use of Teamcenter on the JSF program to enable a full digital PLM.
(Check out previous blog coverage on Lockheed includes their Aviation Week Program Excellence Award and a presentation at last year's PLM Connection event.)
Wednesday, June 3rd, 2009
Attendees of PLM Connection have a chat with our CTO each year at the end of the conference. It's an open mic setting where Chuck Grindstaff and his development leaders address any questions customers have.
I had my own brief "Chat With Chuck" today. Chuck shared key focus areas for our R&D in the future as well as his thoughts on lean engineering to guide companies through this economy.
Here is a brief video via YouTube of our chat.
Let me know if you have any follow up questions for Chuck.
Monday, June 1st, 2009
Also today, Dr. Helmuth Ludwig, our president, shared his thoughts on productivity in this economy. He discussed key drivers of optimization:
Reducing cost

Increasing productivity

Increasing quality

Removing waste and non-value processes

Optimizing product portfolio
He also shared some research results on waste from MIT's Lean Advancement Initiative, where they still find 77% waste and only 12% in value-add activities.
He gave a customer example which happened to be Siemens itself as it looks to increase productivity with an integrated PLM-IT toolset to unify product and production platforms.
His challenge to our customers was to be champions of change in their organizations.
I asked what feedback he has gotten from our customers the past two days and he said he was impressed with the positive feedback on the power in our toolset.
Monday, June 1st, 2009
Today Tony Affuso, our chairman and CEO, presented to attendees at PLM Connection 2009. He spoke about our company's focus on "never letting a customer fail," noting that we have the highest customer maintenance renewal rate in the industry and that our top 100 customers have been with us for an average of 20 years.
Here are a few of the slides he shared via Slideshare:
Then he discussed innovation as a driver for productivity. He highlighted some of the ways our product portfolio is delivering productivity features in new releases this year. He also shared how the latest Solid Edge release focuses on helping our customers be more responsive to their customers' needs.
His presentation emphasized integrating product and process knowledge for continuous innovation.
Saturday, May 30th, 2009
At this moment, I'm finishing up some Power Point presentations and demos for Siemens PLM Connection. As I mentioned the other day, I'm the product manager for Solid Edge Simulation and am a bit excited to talk about what we are doing.
After PLM World, my thoughts will be turning to the next release of Solid Edge Simulation (ST3?) so this is a really good time to talk to me. I'll be getting to Nashville on Sunday and will be attending the Social Networking Meet-up from 4:00 to 5:00pm in Delta Lobby B at the Gaylord. Even if you are not going to PLM World, I'll be blogging and twittering about this time so this might be a good day to finally get that Twitter or Facebook account (I am @burhop ) . Chances are it will be easier to find me online than in a crowded conference center
I'll be giving two presentations at PLM World, the first on Solid Edge Simulation at 4:00pm on Monday in Canal C. I will also be giving a presentation on Femap on Tuesday at 2:30. Here, I will talk about some of the new Femap V10 functionality. Come find me then and we can talk about what you think is important for any future release. If you use twitter, blog or have a Facebook account, you are welcome to post about what we are doing at any of my presentation (how many teachers let you text in class
) I know a lot of companies had to cut back on travel this year and I'm sure there will be many at home wanting to keep in touch with what is going on with Solid Edge ST2.
Monday, April 6th, 2009
Today's podcast features PLM World Chair Jon Jarrett, senior  manager of Engineering Systems at ATK, the world's top producer of solid rocket propulsion systems.
Jon has been a long-time attendee and volunteer in the user group organization. Jon shares what he gets out of connecting with other users and Siemens PLM developers at PLM Connection events.
Click here to listen to the podcast or hit the play button below.
The countdown is on…see you in Nashville in just 8 weeks!
P.S. If you didn't catch the previous podcast with PLM World Technical Director Tom Both, click here.
Thursday, March 12th, 2009
In 12 weeks and counting, quite a few of us will be in Nashville, Tenn., for the annual Siemens PLM Connection event. It's the largest gathering of our customers around the globe.
If you use any of our software, this is the best chance to talk best practices with fellow users and developers from our company. There are many reasons to attend. Learn how other companies are using CAD and PLM to weather the economic storm.
From my past experience with PLM World, I know there is a tremendous amount of hard work that goes into planning this event. The guy with one of the toughest jobs is Tom Both. Tom is technical director on the PLM World board (and a CAD technology team leader at Dresser-Rand by day).
Tom has just finalized the agenda and registration is now open. So I chatted with him to get the scoop. Here's the recording of our conversation.
You can find Tom on the PLM World blog and on Twitter.
Sunday, October 12th, 2008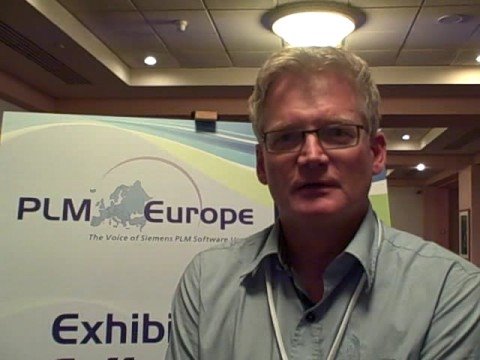 User group events are all about connections. Today I was able to reconnect with Maarten Romers, who is chairman of PLM Europe . I met Maarten 10 years ago when I was running PLM World (then called Unigraphics Users Group). He has been an active volunteer within the user group over the past five years and has attended user conferences in Europe and the United States over the last decade.
I asked him to share a few highlights of his history and the event in this video.
When he's not wearing his chairman title, Maarten is a solution architect for ASML, the world's leading provider of lithography systems for the semiconductor industry. Headquarted in the Netherlands, ASML manufactures complex machines for producing integrated circuits and chips. The company has 600 NX users and more than 1,000 Teamcenter users.
Sunday, June 8th, 2008
People say engineers aren't funny (or maybe I just think this because when I give a presentation, my wife and kids tell me not to do any jokes). So, when you go to a presentation on "FEM and Test Correlation" you are probably not expecting too much entertainment.
Dr. Peter Avitabile from the Structural Dynamics & Acoustic Systems Laboratory at UMASS-Lowell gave a very entertaining presentation on just this subject at PLM World. I spoke with him later and he was nice enough to share some of his slides with me for my blog.
I tried to make an analogy between Machining and FEA in one of my last blogs. He made the analogy between FEA and teenagers and it is much better.
FEA/Test Correlation is just like teenager problems.
"Trying to update Model Teenager based on the Actual Teenager can be a chore!!! I just wish I could make all teenagers act like the model!!!"
Just like CAD tools, FEA tools for predicting how your CAD model will behave are getting easier, cheaper and faster to use. This makes them more and more valuable to companies wanting to cut cost, optimize the design and conform to regulations.
So, it is important we learn how to use and understand what these tools and models are telling us. I hope to keep blogging about this in the future. Let me know what you think.
Monday, June 2nd, 2008
This is my very first time attending the PLM World event and I was not too sure what to expect when I arrived this morning at the Gaylord Palms via shuttle. The first thing I did experience was the beauty of the facility. There are breathtaking structures here at the Gaylord Palms.
The initial session was packed full of attendees, and the they were even attended by those watching via live with Ustream. The breakout sessions were well attended, and I attended a session that was filled with a room full of people that had far more knowledge of engineering than I could learn in a lifetime. I was definitely out of my element in the room, but all-in-all, I was able to find out how that clutch cable assembly worked.
Lunch was served and the facility quickly served a hot meal to 2000+ people in just over an hour. An amazing feat with everyone all sitting down at about the same time. They have had snacks and brownies and soda for the people here and lots of coffee has been brewed. They have done a great job.
In the afternoon I finally made my way to the Vendor Fair and walked by and chatted with a few of the Siemens partners. They all said that they have had a a great turnout. It's winding down now as the last few afternoon sessions wrap up, but the guy playing baseball with the Wii still had a large crowd gathered at his booth.
Looking ahead I am really interested in tomorrow's opening session with Lockheed Martin about the Joint Strike Fighter. Of course, the free drink reception tonight also caught my attention as well. More about that tomorrow!
Subscribe to this blog:
Follow Siemens PLM Software