---
Posts Tagged 'IBM'
Wednesday, May 2nd, 2012
Guest blog post by Dave Mitchell
CTO, Teamcenter product development
IBM's infographic above notes on average more than 70 percent of IT budgets are maintenance focused. This is something I frequently hear from customers. It can make innovation tough.
It's why we work with partners like IBM. Maybe you saw IBM's recent announcement on its new product family called PureSystems. They provide what the industry is now calling "expert integrated systems." They integrate general-purpose system flexibility and cloud elasticity with appliance simplicity tuned to workload. It's a pretty compelling combination.
Teamcenter now runs on IBM PureSystems – specifically IBM PureFlex – which provides a private infrastructure as a service (IaaS) foundation that can be deployed outside or inside a company's firewall.
This can help our customers accelerate private IT deployments, optimize IT utilization, streamline administration and ensure mission-critical reliability. IBM PureSystems capabilities provide an elastic environment that enables organizations to more easily expand or contract their Teamcenter deployments.
We're also working on introducing support for the IBM PureApplication component of IBM PureSystems. We'll let you know when it's ready.
You can check out more on PureSystems on the IBM PureSystems web site. We think it will dramatically reduce IT headaches. Take two and call us in the morning ;-). Seriously, let me know if I can answer any questions about Teamcenter on IBM's latest technology.
Thursday, October 29th, 2009
A few folks have asked me what I think of the Dassault/IBM announcement earlier this week. So I thought I'd share some thoughts here and answer any questions you might have.
The first question is what do we think of this announcement. After reading through the press release, it seems what they're really announcing is the next logical step in their relationship, which has changed over the years.
The next question is how it affects our relationship with IBM. You may remember we announced an expanded alliance in June emphasizing Teamcenter's preconfiguration with the IBM blue stack of technology. From what I can tell it doesn't – and in fact it probably helps. As one analyst put it this levels "the playing field."
The interesting part for me is that over the past few years we've made a concerted effort to grow our indirect sales channel, signing many new partners (such as Rand) and focusing on helping partners become more productive. When I came back to this company four years ago it was the beginning of a whole new channel expansion effort. It appears Dassault is going the other direction. Who's to say which way is best. Time will have to tell. There are challenges to both. We've always had a strong, integrated services division and now Dassault will too.
The good news for customers is that it removes any conflict of interest for the IBM PLM personnel we work with. In the past they were restricted from pursuing named Dassault accounts. So it should  enable more competition in those accounts, which is a good thing for customers.
I think this announcement also shows IBM's committed to being a PLM advisor that is not dependent on a single PLM vendor. 
Those are just my thoughts but you may want to check out more of what media & analysts are saying:
Beth Stackpole notes: "While the IBM/Dassault partnership was never exclusive, the proposed sale will give IBM more opportunity to offer consulting and integration services around other PLM offerings. In June, IBM took some key steps toward that scenario with the announcement of a deal with Siemens PLM Software on a set of PLM applications and consulting offerings based on Siemens' Teamcenter platform and IBM's middleware and service-oriented architecture (SOA) framework."
Jim Brown of Tech-Clarity blogged: "IBM customers may be using DS solutions, or they could be using software from Siemens, PTC, or others. So IBM has developed relationships with these PLM companies. This is just the natural way of things in a multi-vendor market, and it is probably the most beneficial relationship for DS and IBM customers…PLM is still very strategic to IBM. But directly selling and servicing PLM software from one vendor no longer makes sense…"
Monica Schnitger of Schnitger Corp. blogged: "For IBM, the sale of the PLM business is probably just a natural part of their business expansion and contraction. Their history with DS has, at times, been harmonious and, at others, fractious. … Too, IBM inked a technology pact with Siemens earlier this year that raised questions about its commitment to DS. All said, IBM can now focus its resources on partners that may be less contentious and technology areas that it sees as having greater potential…"
Brad Holtz of Cyon Research tweeted: "DS gets a great price. Siemens and PTC get a level playing field. Customers get direct relationship. IBM focus on PLM areas with > growth" and blogged: "Siemens PLM Software and PTC, long envious of the IBM-Dassault Systemes marriage, wish the former couple their best, but are likely to be thrilled at the opportunity to interact with an unconflicted IBM….Customers of the former couple are expected to rejoice at the clarity that the new situation brings."
Ken Wong, Desktop Engineering reported: Beside simplifying the customer acquisition and retention process, DS can soon exercise greater control over its large accounts, which IBM now handles for the company. The transfer of the sales team to DS is expected to let IBM concentrate on providing PLM consulting and integration services, the domains Big Blue is best equipped to tackle. It also leaves IBM free to resell PLM products from DS' rivals, if it chooses to.
And in case you missed it in June, here is a blog post and video of one of our customers, Tano Maenza, who is director of program management office for PLM implementations at Emerson. He noted how they work with a combined Siemens PLM-IBM team.
Feel free to share any of your questions in the comments and I'll do my best to get you answers.
Tuesday, June 16th, 2009
When I was at PLM Connection a couple weeks ago, I talked with Randy Redding, worldwide sales director of Global PLM Solutions for IBM, to get a little more scoop on what this agreement is about. I also asked what it really means for customers. Here's his take:
Tuesday, June 16th, 2009
Tano Maenza, director of program management office for PLM implementations at Emerson, presented today at the news conference on the IBM-Siemens PLM alliance. Emerson uses Teamcenter as its "innovation management engine."
He presented a high level view of Emerson's PLM strategy. They focus on:
 
globalizing assets including the engineering and manufacturing workforce

 

driving business efficiency particularly with "one source of truth in data"

 

technological leadership

 

new product development process.
He shared his experience in working with IBM and Siemens PLM on Emerson's PLM Center of Excellence. Together they developed a PLM maturity assessment that helps Emerson determine PLM-readiness for divisions. From the assessment, they can map a division to a very defined roadmap.
He noted how they leverage IBM and Siemens PLM is as extensions of their corporate support in remote locations.
Tano elaborated on the Emerson's deployment of "Teamcenter-in-a-box" that I covered briefly in previous post. A couple years ago one of their smaller divisions with a small IT staff asked corporate to provide a standard configured solution. So Emerson met with Siemens PLM and IBM in a lab and created the multi-tenet structure needed.
Here are some snippets from Tano: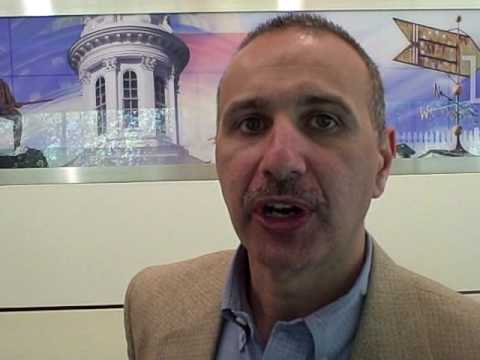 Tuesday, June 16th, 2009
The press release is not out yet so social media is trumping traditional PR on this one.
While we've partnered with IBM in the past for focused initiatives, this is the first alliance of this scope. The alliance covers software development, software delivery and PLM services to provide a comprehensive PLM solution stack.
Tony Affuso, our CEO, noted that we actually signed the agreement a year ago but waited to formally announce it until we had results under our belt. So for the past year there has been a ton of integration work between our development team and IBM's. Teamcenter has adopted and been certified on the product development information framework (PDIF) and is the first to embrace Websphere and DB2.
My colleague Shaun Ennis is at the event and sending me some video snippets to share with you. Here is one of Bill Carrelli, our vice president of strategic marketing.
Subscribe to this blog:
Follow Siemens PLM Software