---
Posts Tagged 'Helmuth Ludwig'
Thursday, September 17th, 2009
Our president Helmuth Ludwig reviews the analyst event from an analyst, customer and Siemens PLM employee perspective.
Monday, June 1st, 2009
Also today, Dr. Helmuth Ludwig, our president, shared his thoughts on productivity in this economy. He discussed key drivers of optimization:
Reducing cost

Increasing productivity

Increasing quality

Removing waste and non-value processes

Optimizing product portfolio
He also shared some research results on waste from MIT's Lean Advancement Initiative, where they still find 77% waste and only 12% in value-add activities.
He gave a customer example which happened to be Siemens itself as it looks to increase productivity with an integrated PLM-IT toolset to unify product and production platforms.
His challenge to our customers was to be champions of change in their organizations.
I asked what feedback he has gotten from our customers the past two days and he said he was impressed with the positive feedback on the power in our toolset.
Monday, November 10th, 2008
"Real-world answers from real-world innovators." That's the theme of our Americas Executive Event I'm at. It's a leadership summit we've held the past few years that brings together many of our top customers who are thought leaders on innovation.
This morning, two of our executives – CEO Tony Affuso and President Helmuth Ludwig – kicked off the event. It was interesting when Dave Shook, senior VP of Americas, introduced Tony. I had forgotten that Tony was on the customer side of our business for a long time. Dave had sold PLM (although it probably had a different acronym back then) to Tony when he was at Xerox and then later when he was managing GM's C4 program for EDS. It's one of the reasons he always connects well with our customers.
Tony shared our strong our business has been over the past year. He cited four specific customer implementations he is proud of:
Canon – where they have reduced time to market by 40% and decreased engineering change orders by 30-50%.
Volkswagen – where they evaluated us and our major competitors for PDM on a scorecard and we were on top in all categories, including end-user feedback and technical evaluation.
Unilever – where they've created a "common information lifecycle management" system with our tools.
Nissan – where they've reduced prototypes from 3 to 1 and reduced rework by 40%.
Helmuth continued sharing more of a business update. He joked that it was interesting that one end of the hotel was a "high blood pressure and migrane" conference (seriously, there was) and on the other end us. So I guess if you don't have our PLM tools you'd be at the other conference! He shared a little more of the history of why Siemens acquired our company – that like many of the executives in the audience they were looking to consolidate their tool set and leverage a common platform. He also outlined the areas of focus under Project Archimedes, one in particular that is proven to reduce machine time from 9 hours to just one.
So from our vision to the reality for our customers…my next posts will share some detail from the customer presentations that followed.
Monday, October 13th, 2008
Well it was a little bit rough getting here, but Helmuth Ludwig did finally make to the conference and took the stage to give the assembled audience of more than 750 people an overview of the state of the business.  Helmuth started by relating a conversation he participated in that went on the week before at a US Automotive conference.  As you might expect, the talk was all about the current economic situation (dare I say crisis?).
The US automakers are coming to grips with the idea that production could drop next year to as low as 13M vehicles, a place it hasn't been in years.  The attitude was surprisingly positive though.  They are all saying to themselves: 'we can't change the facts any more than we can change the sun rising in the morning.  The question is: what are we going to do in response to the facts?'  Seizing an opportunity in a time of crisis, that's what the companies that are going to succeed figure out how to do
And many of them are looking to do it with PLM.
Next Helmuth walked through the current organization and investment priorities at Siemens.  Some look at Siemens as see that we are no longer in Telecommunications, no longer in Automotive.  This leads some customers to ask: is Siemens restructuring every few weeks?  In fact, Siemens has a long history of re-inventing itself, and the good thing about this wave for everyone in the room is there is a strong focus on the Industry Sector, which is where the PLM business is housed.
One official organizational announcement: Chuck Grindstaff, longtime Exec VP of Products has officially been named as the Chief Technical Officer for all of Siemens PLM Software.  This is a great recognition of Chuck's overall contribution to our vision and execution ability.  (since there wasn't a press release, you heard it here first!)
Helmuth then welcomed the 200 new members that are here at this meeting today. This incredible growth shows the strength of the industry and of our customers.  Speaking of customers (after all it is a users conference), there were a few major companies that aligned themselves with Siemens PLM in the last year:
Volkswagen – after an extensive and detailed evaluation, we came out number 1 in all categories.  Teamcenter is now the PDM standard in all of VW.
Canon – we have been working with Canon for many years, but last year they decided they wanted to standardize across all division and all products on Siemens PLM products.  They did this because they can reduce their time to market and since deploying they have been able to by more than 40%.
That's where we are today, but where is it all going?  Helmuth wrapped up his talk with a walkthrough of a vision that includes not only the ability to test a product virtually, but be able to do a virtual test of the factory to see what the true impact of change is. 
Vision like this doesn't happen overnight…however we have selected 4 specific cases to address first.
One customer that has been a lead adopter of the technology from these cases has been able to reduce setup time from 9 hours to 6 hours for change over.  Whoopee – 33%  reduction.  Doesn't seem all that significant until you realize that of the 6 hours, only 1 was required for physical setup on the machine, so the machine was producing for 8 more hours that it was previously .  Now that is significant.
These use cases are all based on what our customers have told us about their situation: we have hardware and infrastructure partners we like.  We have desktop productivity tools we like.  We have ERP tools we like.  The open question is what one company will step forward for the Industrial Operations software we need and provide that one stop shop like we have in all of the other areas. 
It is through the use of this emerging platform that companies like yours can get ahead an innovate in this current environment and harness the opportunity in the crisis. 
A great start.  But that's enough from us.  Let's hear from some customers.
Update: Helmuth was nice enough to share his slides, which we posted to slideshare for your viewing pleasure:
Wednesday, May 14th, 2008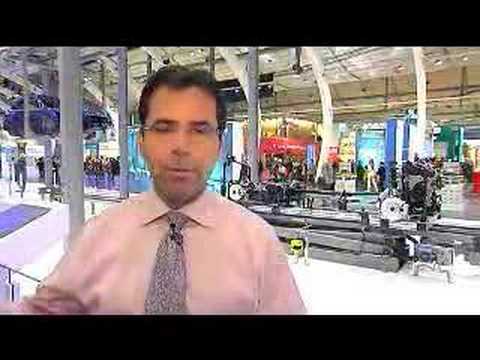 One of the first 'Siemens' memories I have was last year when I got the chance to go to Hannover Fair (Hannover Messe if you are a local).  The acquisition had been announced but wasn't quite closed and I spent the week before doing some integration work (that is as boring as it sounds) and then got the chance the next week to go to my first Hannover.  If you've never been there all I can say is words can't describe the scale of it all.  It's like 27 McCormick places (Chicago) or Cobo Halls all on one large parcel of land.  My feet got tired just walking from the train to the main entrance!  What amazed me even more is the scale of the displays.  There were two story motors, large vehicles and three story booths.  The Siemens booth was certainly on par with everyone else and this year it looks like we took it to the next level. 
In this short clip of our President, Dr. Helmuth Ludwig, from the show floor this year you get a glimpse of a full auto assembly line running in the background – that was all in the booth this year.  Having started my career in the golden age of big trade shows in the U.S., its interesting to see that these mega-shows (which have mostly died off here) still pack them in elsewhere.  Who says globalization makes everyone and everything the same?
Subscribe to this blog:
Follow Siemens PLM Software