---
Posts Tagged 'CAM'
Monday, October 6th, 2014
Today we're proud to announce the latest release of Siemens' NX™ software, NX 10.
We've made some exciting changes with this latest version of Siemens PLM Software's NX software.  From feature enhancements to brand new capabilities in CAD, CAM and CAE, NX 10 has something for designers, manufacturers and analysts alike.
My favorite option is the new touch-enabled interface that puts product information literally at your fingertips. You can use NX 10 on tablets with Microsoft's Windows. Using your hands to manipulate shapes is a more natural, intuitive way of designing.
Combine this with improvements made to NX Realize Shape, and you'll be creating highly stylized shapes with complex surfaces in no time. NX Realize Shape uses an approach to creating 3D geometry that was pio
neered by the entertainment industry for films.
Another great enhancement we've made should spark the attention of simulation analysts: NX CAE features a new multiphysics environment. You can easily build coupled solutions on the same mesh using the same options you're familiar with thanks to its consistent look and feel. And this environment streamlines complex simulations, because it connects multiple solvers.
You can experience the new functionality of NX 10 starting in December.
Read about all of the new changes and features we've added based on feedback from users like you in the NX 10 documentation.
Friday, September 12th, 2014
Connect with other Siemens PLM Software users when you attend one of the free Regional Users Group (RUG) meetings held all over the U.S. over the next few months.
These day-long conferences not only present a great opportunity to network with peers, but you can also hear firsthand how other customers are using Siemens PLM Software solutions such as NX (CAD, CAM, CAE), Teamcenter, Tecnomatix, LMS and Solid Edge as they share their success stories.
Learn about key feature enhancements and the latest software direct from Siemens PLM Software experts and representatives. The team will even demonstrate a preview of the next release of software.
This is a chance to network, learn, and have fun.
Attendance is free or minimal cost thanks to the sponsorship of PLM World Partners who make these events possible. You must register to attend though, so be sure to follow the links below to register for the event nearest you!
SoCal – LA                         Cypress, CA                             9/24/2014
SoCal – San Diego            San Diego, CA                         9/25/2014
New York State                 West Henrietta, NY               10/7/2014
Mid-Atlantic                      Linthicum Heights, MD       10/9/2014
Chicago/Wisconsin          Gurnee, IL                               10/15/2014
Midwest                              Bloomington, MN                  10/17/2014
New England                     Framingham, MA                  10/21/2014
Rocky Mountain               Louisville, CO                         10/23/2014
St. Louis                             St. Louis, MO                          10/28/2014
Northern California         TBD                                           11/4/2014
Southeast                           Atlanta, GA                              11/6/2014
Cincinnati                          Loveland, OH                          11/11/2014
Indiana                               Indianapolis, IN                     11/13/2014
-Amy
Monday, June 2nd, 2014
One of the most exciting announcements at last year's Solid Edge University event was the introduction of CAMWorks for Solid Edge 2014 from our technology partner Geometric Limited. We have had several strong CAM partners for Solid Edge over the years and of course we have our own CAM Express solution, but CAMWorks is the first solution to run embedded in Solid Edge. You can find an excellent series of "how-to" articles on CAMWorks from one of our CAM experts Jim Wright on our Solid Edge community site. Jim's most recent articles discuss new mill-turn machining capabilities and how to machine multiple components.
At this year's Solid Edge University I was able to talk with Nishant Saini, Geometric's Director of Product Sales and Marketing about CAMWorks for Solid Edge. We touched on the interest from existing Solid Edge users, the new assembly and 5-axis machining capabilities, and a recent case study from an architectural metal fabricator and Solid Edge user Kern/Rockenfield Inc.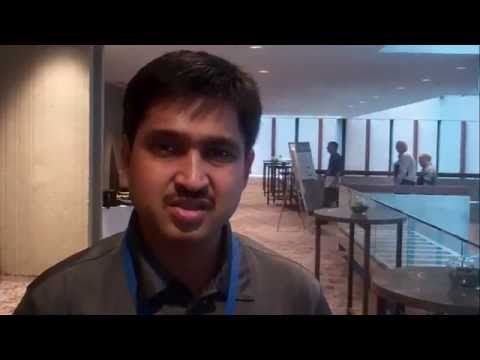 Monday, October 14th, 2013
Today we are proud to announce the latest release of Siemens' NX™ software, NX 9.
NX9 includes new tools like synchronous technology for 2D greatly facilitate 2D data editing.

The introduction of fourth generation design (4GD) technology will enhance design productivity for massive assemblies in the Marine Industry NX Realize Shape™ software delivers a new state-of-the-art freeform design toolset with unmatched product development integration.

NX 9 also includes tighter PLM integration through Siemens' Active Workspace environment. There are many more enhancements throughout the integrated CAD/CAM/CAE solution. The enhancements in NX 9 are aimed at creating value by addressing issues common to multiple industries such as automotive, aerospace, shipbuilding, consumer products, machinery and others.
NX 9 is available for download today.
To learn more, go to the NX 9 web page.
Jerry
Thursday, June 13th, 2013
The headlining gold sponsor for Solid Edge is none other than the CAM expert Geometric.  While they are new to the scene for many Solid Edge listeners, they have been putting together some great riffs for many years.
So why are they coming?  What will they do?  That is still yet to be announced.  However, I can say, if you like the sweet sounds of manufacturing hardware, I expect you will be sorry if you didn't make it to Solid Edge University this year.
Heres's my interview with them: (more…)
Thursday, November 29th, 2012
The ability to visualize exactly the material that remains to be cut makes it much easier to create the most efficient machining operations and to determine their optimum sequence.
With NX 8.5 CAM you can improve NC programming time by as much as 10X for parts with prismatic features by using Volume-based 2.5D Milling. This new operation instantly displays the volumes machined by each operation and automatically updates the remaining workpiece material when you reorder them. Watch this short demonstration for an introduction to the concept.

NX CAM – Introduction to Volume-based 2.5D Milling
Friday, November 9th, 2012
Simulation technology has a lot to offer to mold manufacturing. It's a matter of recognizing the problems that it can help to solve. Our latest article, In Simulation We Trust, published in this month's issue of MoldMaking Technology Magazine explores various challenges in mold manufacturing and how simulation technology can help to overcome them in order to:
+ Design better molded parts faster
+ Make more complex, higher quality and better performing tools
+ Create error-free programs faster and machine more efficiently
Friday, October 19th, 2012
During our opening NX CAM Tech Tip, "The benefits of a manufacturing setup; and how to create one," you may have spotted us using hardware and work-holding devices from the Reuse Library. Some of you asked if these components could be made available for download. We thought this was a great request. So here they are.
Instructions for downloading and installing the NX CAM Reuse Library Samples are posted here in our NX for Manufacturing forum. You'll need a valid customer webkey to download the data. And to help illustrate how to use the samples, we produced this short tech tip video.
We also produced this additional tech tip video on how to create a CAM component for your Reuse Library.
Are you looking for a specific component?
Do you have a component that you'd like to share with others?
Let your online community know in the NX for Manufacturing forum. Someone who can help might be listening.
Credits: Michael Mannino, one of our CAM experts based the USA, is the originator of this sample library and was pleased to hear about your interest. He jumped at the opportunity to share his collection. Thanks for sharing Mike!
REGISTER HERE for the NX for Manufacturing Tech Tips webinar series. The next session is about taking cutting tool catalog management to the next level with the Manufacturing Resource Library(scheduled for October 30th).
Friday, October 12th, 2012
The marketing team recently caught up with Andreas Saar to discuss some of the challenges manufacturing companies face today and how NX 8.5 (available end of October timeframe) and Teamcenter can help to solve them.
From full associativity between design and manufacturing departments to increased NC programming and machining productivity, improved utilization of cutting tool catalogs and secure management of information and processes, the combination of NX 8.5 and Teamcenter offers the next level of CAD/CAM and shop floor integration.
Learn more by watching this short video from our interview with Andreas about the benefits of working with NX 8.5 and Teamcenter. You'll also see video footage of some of the new capabilities coming in NX 8.5.
Andreas Saar on the next level of CAD/CAM/CNC process integration
If you're interested in seeing more software in action, REGISTER to join us for the NX for Manufacturing Tech Tips webinar series. We'll do live demonstrations on pertinent topics that can help increase the productivity of your CAD/CAM/CNC process chain.
Wednesday, October 3rd, 2012
The NX 8.5 release is less than a month away (end of October timeframe) – and it's packed full with new enhancements. Here's a short summary of some of the new noteworthy features and benefits you can look forward to in NX 8.5 for Manufacturing:
NX CAM: Machine higher quality parts faster.
Create NC programs 3 to 5 times faster for prismatic parts with Volume-based 2.5 D Milling. This operation uses a volume-based approach that tracks uncut material and instantly displays a preview of the planned machining operation. It can also help to minimize machining time.
You can also expect to reduce programming time, achieve a high quality surface finish, and cut faster with many of the additional NC programming enhancements in NX CAM 8.5. These include a new valley rest milling pattern for mold and die machining, enhanced controls for 5-axis machining, and additional roughing and finishing options for turbomachinery milling.
NX CMM Inspection Programming: Streamline your quality inspection process.
For quality inspection, NX 8.5 adds measurement results analysis to the CMM inspection programming application. Now you can see and evaluate your "as-built" measurements in NX right next to the "as-designed" models you use to create your CMM inspection programs.
NX CMM 8.5 also includes collision avoidance enhancements and scan preview with display of probe orientations.
Manufacturing Resource Library: Manage your cutting tools.
Manage your vendor catalogs and preferred tool assemblies (as well as your custom resources), and provide easy access to tooling data for NC programmers with the new Manufacturing Resource Library (MRL) and Manufacturing Resource Library Connect for NX.
The MRL stores and classifies its content in Teamcenter with a full range of search functions and graphical displays so you can easily find and access the tools you need, and pull accurate 3D models of the selected tools directly into your CAM programming session.
.
Learn more. Join our upcoming webinar.
If you're interested in learning more about these new capabilities (and others), then you should join us for this webinar.  REGISTER NOW!
Webinar: NX 8.5 for Manufacturing
Date: October 4, 2012
Time: 2pm Eastern (presentation will last 45 minutes, followed by Q&A)
You can also visit our NX 8.5 for Manufacturing web pages to learn more about the upcoming release.
Have you started your plans to upgrade to NX 8.5?
Subscribe to this blog:
Follow Siemens PLM Software