---
Archive for the 'General' Category
Tuesday, March 12th, 2013
Meet VIRO, a specialized engineering services outfit based in the Netherlands. 550 strong, VIRO delivers design and analysis consultancy packages to a diverse range of customers in the chemical, petrochemical, energy, industrial machinery, and oil and gas sectors. Core to VIRO's philosophy is a robust, bi-directional link between design and analysis disciplines – a philosophy that is perfectly complimented by the common, integrated design and analysis environment that is NX.
Thursday, January 3rd, 2013
As we move into 2013 and look forward to all the great conversations around PLM, I couldn't help look back on some of the great moments of 2012. I've pulled the top posts from each of our blog contributors for you. Without further ado, the best of 2012:
Special thanks to our regular contributors and our guests this year! You all ROCK
What topics are you interested in in 2013? Any suggestions or comments for our team, leave them here.
Tuesday, December 4th, 2012
Chuck Grindstaff is president and CEO of Siemens PLM Software. In my latest Chat With Chuck, we covered some interesting ground. Listen in to hear his thoughts on:
merging cultures and innovation styles
today's engineering graduates and the job market
HD-PLM's role in enabling innovation and problem solving
prospect and customer conversations
Thursday, November 15th, 2012
I think most of you know Siemens is a HUGE company.  Yet, as big as we are, we can't do everything. It's important to have great partners that can help us bring all the best technologies to our Solid Edge customers.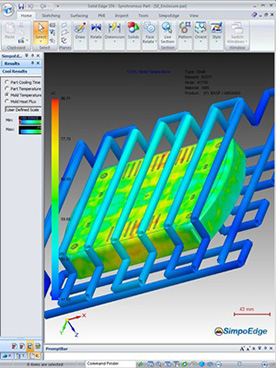 This is why I'm very pleased to let you know about a new 45 day free trial of Simpoe's SimpoEdge product. (more…)
Thursday, November 8th, 2012
By now you've probably heard the news.  Either that or the Siemens PLM Blog is your first stop every morning.  For the few of you in that latter group, here's the scoop: Siemens is at it again – we've announced another acquisition: LMS International.  While I love all of the companies we've acquired over the past few years, this one has special significance to me.  The first "real" job I ever had when I got out of school was working for LMS in their North American HQ in Troy, Michigan, as a support engineer.  At the time LMS was mainly a test and measurement company with big customers in the automotive and aerospace industries.  Since then, LMS has grown to be a leading model based systems engineering and hybrid engineering firm with customers in every major manufacturing industry.
I sat down with Chuck Grindstaff earlier today to talk about the LMS acquisition.  Here are some highlights of our chat:
Chris: At the Siemens PLM Software analyst conference last month you talked a lot about how we give our customers an immersive, decision support environment and the key role that intelligently integrated information plays in making that happen.  How does the LMS acquisition support that strategy?
Chuck: The message at the analyst conference was all about helping our customers design their products from the very coarse, early levels – what we call model based design – and then ask those models questions that are tied to the final product performance down the road.   (more…)
Tuesday, October 23rd, 2012
Decisions, decisions.  The first decision I had to make this morning was whether to write this post in response to something Oleg posted earlier today, which was already in response to something Jim had written a few weeks ago.  As you can see, I decided in the affirmative.  To be honest, it was an easy decision even though I've been on a leave of absence from the Siemens PLM Blog for a while (just some other things getting my attention for the last few months).  If you liked what I had to say and am glad I'm back, then thank Oleg – if not, then you know who to blame.
This discussion all started a few weeks ago, when Jim posted about some research he had completed on "Improving Engineering Decision-making with PLM".  One of the findings he shares from the report is that making good decisions early in the product development process is even more important as product complexity increases.  Oleg picks up on Jim's themes of decision making and complexity, concluding that PLM is too complicated to support decision making.  It's not that decision making won't happen – it has to happen if product is going to ship.  "It just won't happen here…in PLM system".
Tuesday, October 16th, 2012
Duraldur specializes in the production of cast and molded pistons for the world's leading engine manufacturers, for all types of engines from farm machinery to Formula 1 racing cars. For Duraldur, a key contributor in determining the validity of a design is the use of simulation software, particularly in developing the piston's profile which is essential to prevent seizures. Starting from imported CAD data, Duraldur uses Femap to determine the combined effect of thermal and mechanical loads on the piston and verify whether it's likely to fail in real-world conditions. If a piston seizes, the whole cylinder has to be thrown out and, in some cases, even the base of the engine resulting in unsustainable cost. By using simulation to predict the behavior of the design this risk can be minimized.
Another interesting point about this case study is that Duraldur also uses Femap to present the results to its customers as proof of the proposed solutions validity. This helps give the customer confidence to proceed with the project.
You can read the full Duraldur case study to find out more about how the use of CAE software helps Duraldur save time and money.
Alastair
Follow Femap on facebook and the Femap group on LInkedin
Monday, October 15th, 2012
This is a guest post from Erica Simmons, Marketing Manager for Energy, Oil and Gas Industries at Siemens PLM Software
Siemens Avatars, EPRI Algorithms and the Microsoft Kinect for Windows system are transforming As Low As Reasonably Achievable (ALARA) Planning in the Nuclear Industry.  What started out as an industry problem now has a creative and innovative solution thanks to the use of advanced technologies and the collaboration of the project team.  When we joined the FIATECH industry association, our goal was to sit with industry to learn more about business challenges to which we could apply our technologies.  We found that the FIATECH industry association gave us the ability to not only listen and learn but to also actively participate in projects with industry participants. 
Upon joining the Operations and Maintenance working group at FIATECH, we started to work with the Electric Power Research Institute (EPRI) and nuclear ALARA planners in the USA on a software solution to address a previously manual and paper based ALARA planning process.  Over the last two years, we found through attending meetings  with EPRI, Fiatech and Nuclear Utility owners that our  out of the box technology could most certainly be applied to this industry challenge.  Over the year, we worked with Utilities to design and test an easy to use solution.  After many collaborative and productive sessions, I am pleased to show you the fruits of our labor – the new Siemens ALARA planning application.  What I really enjoyed most about this was working with our teams to think about different ways to solve the ALARA planning challenge.  We were able to come up with a solution that integrated key product offerings – the Tecnomatix Human Simulation solution with Jack and/or Jill and our Process Simulate Solution.  The integration of these two products gave us the ability to manipulate the avatar in the work environment and at the same time we could analyze the actual work process, including how long it took to perform the task.  The icing on this preverbal cake was the EPRI Dose Algorithm.  This allowed us to view radiation exposure by the avatar as it moved thru its work.  This is the essence of the industry challenge – Accurately estimating dosing and or implementing other processes to minimize dose rates for maintenance procedures.  We feel really good that we have something that will revolutionize this planning process taking it from paper to the 21st century!  (more…)
Monday, September 24th, 2012
guest blog post by Bill Boswell, senior director of partner strategy, Siemens PLM Software
Are we on the verge of a crisis in manufacturing? Three circumstances – a global aging workforce, increasing product and process complexity and an education skills gap – are converging right now. Each of these issues individually is a challenge but combined they could create a crisis in manufacturing.
See more details in the infographic and article below.
Global Aging Workforce
Every day, around the world, our global workforces are getting a little older.  The statistics are startling. Since Jan. 1 of last year, every day, 10,000 baby boomers turn 65. That is going to happen every single day for 19 years. It is estimated that within five to 15 years the retirement of skilled baby boomers will create a workforce shortage of 10 million additional workers by 2020. This "trend" is not offset by a younger generation taking its place. How will we overcome the brain drain this creates? How will we keep older workers productive longer?  How will we compete to hire the best younger workers for our companies?
A recent survey by Deloitte and the National Manufacturing Institute found "the hardest jobs to fill are those that have the biggest impact on performance." Nearly 75 percent of survey respondents reported workforce shortages or skills deficiencies significantly impact their ability to expand operations or improve productivity.  Manufacturers noted that access to a highly skilled workforce is the single most important factor for future business success – more important than new product innovation and increasing market share.
Increased Product & Process Complexity
Set aside the complexities of global economies and global supply chains for a minute and focus on product and process complexity. The products we design, build, test, manufacture, sell and use today are typically not just mechanical anymore.
They include electrical, electronics and software. They require systems engineers to design and put it all together. They require sophisticated materials, processes and manufacturing facilities to build them. This increased complexity means we need more technically skilled people. We need to go back to school and better align academia to industry.
Education Gap
Only 1.5 percent of 25-34 year olds in the workplace gained a higher education degree in a science-related field, putting the U.S. in the bottom third of developed countries. Projections indicate that by 2020 we will have 1.5 million too few graduates compared to employer demand.
Despite the worldwide economic slowdown in previous years, there still were 3 million engineering graduates needed in 2010 (the last year global statistics are available). There were only 2.25 million available. The shortage is not just engineers. It is the entire workforce that builds and supports complex products.
Just in the U.S., recently according to the president's job council, there are 3.3 million job openings. Many go unfilled for months as roughly half of employers say they are having a hard time finding the right qualified workers to hire, especially in science, technology, engineering and math (STEM) fields.
STEM jobs are central to economic competitiveness and growth and are projected to grow at twice the economy by 2018. STEM jobs provide good wages for every level of education.
Given all these good things about STEM jobs, we need to redouble our efforts to train the next generation in technical skills.
Averting the Crisis
So how do we avert the impending challenges? Every one of us has to get more involved. There is opportunity to change this at every level.
The first, most immediate opportunity is with students already in the education system. Let's engage those already interested in computers and math with strong applied skills programs.
Industry-focused real-world projects are where the rubber meets the road. Look at General Motors (GM) and the U.S. Department of Energy (DOE)'s EcoCAR 2 program. Managed by Argonne National Laboratory, EcoCAR 2 challenges collegiate students to compete in a three-year competition to develop energy-efficient technologies to help reduce the nation's dependence on foreign oil. Many of those students are quickly recruited by program sponsors.
Let's expand this to other industries.
Second, while this is a national and even global challenge, let's focus locally. Community colleges are uniquely qualified to retrain workers. Look at what Iowa Western Community College (IWCC) did.
They created an advisory board of local manufacturers and developed an updated curriculum to address the skills gap. They are revitalizing manufacturing. We've worked with IWCC to now provide this same blueprint around the world. Graduates earn a complete two-year PLM associate's degree.
Third, let's do more to encourage women to pursue STEM. Although women fill close to half of all jobs in the U.S. economy, they hold less than 25 percent of STEM jobs. We need many more Sally Rides.
Finally, let's increase our involvement with students from kindergarten through high school.
So I challenge you to get involved in one of these four areas. If each one of us working in engineering and manufacturing mentored just one young person to choose a STEM career, we would avert this crisis.
We're not getting any younger, but we can sure work together and work smarter to avert this crisis. The infographic points you to two resources listed below from us. Additional supporting articles are referenced below.
Learn more about the Crisis in Manufacturing from this video: http://bit.ly/mfgcrisis
Download this white paper to learn how innovative community colleges are addressing the crisis in manufacturing: http://bit.ly/ccpaper
Supporting material: