---
Archive for the 'General' Category
Wednesday, October 30th, 2013
When Siemens PLM Software released the latest version of NX TM software (NX 9), it didn't just modernize the user interface, introduce a deluge of new productivity enhancements and increase the version number.
Now and then: above: Running a machine tool simulation in NX CAM 9. Below: The part generation sequence using Uni-graphics (circa 1973). (Explore The Unigraphics Virtual Museum – PLM World to discover more "artifacts".)
No, it released much more than that: an industrial-strength computer-aided manufacturing (CAM) software built upon 50 years of working to maximize part manufacturing efficiency with the world's leading manufacturers in nearly every industry.
The origins of the CAM capabilities in NX date back to 1963 when John Wright founded United Computing Corporation. Back then, United's CAM product, UNIAPT, was used by aerospace companies to compute and post process tool paths that were punched onto a paper tape to program numerical control (NC) machines for cutting parts. UNIAPT was a minicomputer-based version of the Automatic Programmed Tool (APT). It was unique because it offered a lower cost alternative to the standard mainframe time-sharing services. Companies that used it were able to save on the costs of NC programming, debugging and program editing.
Ten years later, United purchased the ADAM software and UNIAPT received a graphical frontend that provided basic 2D modeling and drafting and became one of the first computer-aided design (CAD)/CAM products, called UNI-GRAPHICS.
Fast-forward a half-century, obsolete some of the hardware, invest countless man-years in development, obtain numerous patents and the result is a rich CAM legacy that amalgamates into NX 9.
Developing NX 9: industrial-strength CAM software
For manufacturers, NX 9 offers enhancements and upgrades aimed squarely at producing higher quality parts faster and delivering jobs more cost effectively. Customers in the automotive, machinery, aerospace, high tech electronics and general machining industries have all contributed to the development and testing of NX 9. As a result, beyond the general value that NX offers, the new CAM and coordinate measuring machine (CMM) capabilities provide additional benefits.
"NX 9 provides manufacturers with the necessary capabilities and the precise control needed to achieve their goals," states Zvi Feuer, senior vice president of manufacturing engineering software at Siemens PLM Software. "NX 9 is more than a new version of software, it is a hallmark of our fifty years in the CAM business. It represents our longstanding dedication and commitment to work with our customers, large and small, and in all industries, to help transform their manufacturing operations into engines for profitable business growth."
Lexmark's prototype shop in Richmond, Kentucky uses NX CAM to manufacture prototypes for validating new printer designs.
"Part of our success depends on how quickly we're able to turn-around new design concepts," explains Ron Shrout, who is the prototype shop team leader at Lexmark and is an NX CAM 9 beta test participant. "The new cut region management capability will dramatically improve our CNC programming productivity and part quality. With NX CAM 9, we'll be able to complete programs faster, and easily control cut patterns to achieve the surface finish that we need."
Lexmark also depends on 5-axis machining to reduce setups and to machine hard-to-reach areas.
"The new tilt tool axis capability will save a lot of programming time and effort," says Shrout. "We'll be able to program a 3-axis cut, and have NX CAM 9 automatically transform it to 5-axis. Our programming input will be simplified."
Providing more efficient die/mold manufacturing
In die/mold machining, huge productivity benefits can result from producing a high-quality surface finish right on the machine. With NX CAM 9, programmers can take precise control over machining strategies for a superior surface finish and faster finishing.
The new cut region management capability enables you to graphically specify cut patterns by region, resulting in as much as a 40 percent improvement in programming productivity and improved surface finish for some complex molds and dies. Watch a highlight video of cut region management (duration: 2:51).
Whenever possible, it's best to machine with the shortest tool. Longer tools bend more easily, resulting in chatter and vibration. Machining efficiency suffers when feed rates are reduced, and poor surface quality results from the vibration. The upgraded divide tool path function enables you to discover where longer tools are needed and automatically splits the tool path, helping you save longer tools for the deep reaches.
More than just an optimized material removal rate is needed to get the most from high-speed machining. NX CAM 9 provides smooth optimized traverses, stepovers and region connections that minimize machine stress and maximize the ability of the controller to drive it at its highest feed rates. NX CAM 9 includes additional new capabilities and enhancements for die-mold machining. Read more about what's new for die-mold machining.
Deliver production machining jobs faster
Significant productivity benefits can result from re-using programming work, especially for setups with multiple identical or similar parts. With NX CAM 9, jobs of this type can be programmed in almost the same time it takes to program a single part.
The new multiple-part programming capability assists you with reusing complete machining sequences. The tool paths are kept associative, so changes are kept up-to-date on dependent work pieces. Watch a highlight video of multiple-part programming (duration: 2:31).
To help save time and avoid mistakes, like accidentally missing a hole, NX CAM 9 provides a new level of programming automation for holes based on feature recognition. The complete process for finding holes is automated. Simply select a group of holes and drill. Learn more about what's new for prismatic parts machining.
Make the transition to 5-axis machining
Five axis machining offers the benefits of reduced setup and machining time, and reduced hand-polishing. But 5-axis machines are typically more challenging and time-consuming to program. The enhanced tilt tool axis function in NX CAM 9 enables programmers to take advantage of 5-axis machining efficiencies without the challenges of traditional 5-axis programming.
You can create a 3-axis tool path and then use the tilt tool axis capability to look ahead for potential collisions and automatically avoid them by tilting the tool.
Complex turbines, impellers, and blisks can be challenging to program. NX CAM provides special turbomachinery milling operations that machine these components accurately and safely, with a minimum amount of programming input. In NX CAM 9, the turbomachinery milling operations are enhanced to provide more process options, such as the ability to swarf cut some blade surfaces, and support for flat and bull-nosed tools for roughing, resulting in more efficient machining and a better surface finish. Read more about what's new for complex parts machining.
Automating CMM inspection programming for more types of parts
Inspect a wider range of part types, including sheet metal components, with the new CMM inspection programming capabilities in NX 9. Reduce inspection programming time by automating the creation of CMM programs and analyzing inspection results directly on the 3D solid mold inside NX. Learn more about what's new for inspection programming.
In addition to 3D solid models, you can automate the programming of sheet metal parts in NX CMM 9. After the part is inspected, the CMM results can be read back into NX and graphically displayed in the context of the part model.
Back to home position
So what was achieved over the past 50 years? Quite a lot, as it turns out. The power, breadth of capabilities (beyond just what's new) and value customers ultimately gain from NX 9 are proof of the technological progress. But I'm not going to plunge into all of this in this blog post. In upcoming blogs, I'll explore what NX 9 and complementary products, such as Shop Floor Connect for Teamcenter software, can offer part manufacturers in their respective industries.
For more information about the capabilities in NX 9 for manufacturing, including blog posts, instructional videos, hands-on demos, online community discussion and more, visit the NX Manufacturing Forum.
LIVE Tech Tip Webinars!
Watch NX experts demonstrate the latest capabilities in NX CAM 9.
Stay online for Q&A.
REGISTER NOW!
Friday, October 25th, 2013
Lucas Shoults is a first-year graduate student engineer at Virginia Tech (VT). He is majoring in mechanical engineering and is the business manager of VT's EcoCAR 2 team. I met Lucas at the EcoCAR 2 Fall Workshop where he, his team and teams from 14 other universities received training in preparation for the third and final year of this collegiate engineering competition.
His story highlights how critical real-world engineering competitions like EcoCAR are to developing passionate engineers. He says in our video interview below that EcoCAR changed his college career and made him care about engineering.
So let's learn more about Lucas and meet "Mary the Malibu" seen below in all her EcoCAR sponsor sticker glory.
When did you know you wanted to be an engineer?
"I didn't know I actually WANTED to be an engineer until my senior year of college when upon joining Hybrid Electric Vehicle Team (HEVT) I saw the knowledge I had gained throughout my undergrad actually be put to use in a very real and dynamic project. The reasons I joined HEVT was pretty simple. I didn't know much about cars and figured I could take the opportunity to learn all the systems of a vehicle, specifically one that is a hybrid as that seems to be the direction that a lot of automotive manufacturers were headed. Secondly, I had a good friend who was team leader and I figured if I could get to hang out with him and grow some relationships with the people on the team, why not?"
Here more in this video interview where Lucas also shares how he became an NX and FEA expert for this team.
What lessons have you learned from EcoCAR 2? 
"The last 10% takes 90% of the time. Allow ample time for the mistakes that you will make and the unforeseen circumstances that you cannot control such as a delay in the shipment of a critical component.

Don't be afraid to make mistakes. I made a rather expensive mistake my first year on the team when dealing with the half shafts and I had to make sure that it was finally done correctly. However, because of that mistake I have been able to show guys on the team this year the correct way to take measurements for half shafts, ensuring that there won't be another mistake like last year.

If all you care about is taking 1st place, you are doing it wrong. As much as this is a competition, the goal is the universal growth of knowledge and skill among all teams involved. It is hard enough to get a car working in the first place, the support and help we received from our 'competitors' was and is much appreciated. Shout out to University of Tennessee, thanks again for the half shaft."
What advice would you give students considering engineering as a career?
"Do it. It will challenge you in various aspects of your life. Do not expect to have a normal college experience, because engineering is setting you up for a unique after college experience. Even if you decide at the end of your undergraduate to do nothing within the engineering field, I am confident that the lessons you will have learned about yourself, your study habits, ability to work through countless problems for hours attempting to solve it correctly, and just the work ethic that I have personally experienced and seen among my friends is hard to duplicate. So if you want to be challenged, engineering is a great field. If you just have no idea about what you want to do, engineering is a great field. But if you know what you love, and it is not engineering, do not do engineering, do what you love. I am thanking God I can now, as a first-year graduate student in mechanical engineering, say I love what I do."
It's clear Lucas and his teammates love what they're doing. Here's a picture of them at the EcoCAR 2 Fall Workshop:
Good luck to all the EcoCAR 2 teams in this final year of the competition.
I wonder what other nicknames the teams have given their Malibus
.
- Dora
P.S. Stay tuned here and on our academic projects web page for the latest on great student competitions.
Thursday, October 17th, 2013
I visited the beautiful campus of the University of Maryland (UMD) in September to sit down with Dr. Jewel Barlow, one of the advocates who helped bring Siemens PLM software on campus to locations like the Glenn L. Martin Wind Tunnel.
Jewel is director of UMD's wind tunnel. He shares in our three-part video interview below why he went into aeronautical engineering and academia.
He also notes why this grant is important to UMD:
"To do aerodynamic testing… we need that three-dimensional information as efficiently as possible… Typical wind test planning cycle may be six months to a year. That's too long. It needs to be days instead of months. That will only happen with these software tools…The software that enables us… will have to become second nature to our best engineers, our best designers."
Part 1:
Part 2:
Part 3:
In addition to Jewel's comments, I also wanted to share these outtakes in the recent issue of the UMD's independent student newspaper, The Diamondback:
"Now, the university can use it in its own projects, helping merge the gap between theory and application to spur economic growth in manufacturing and bring the university up to par with the world's top innovators, (University President Wallace) Loh said."

"The software will become a central resource through all aspects of the design process, from concept to implementation, making it easier and faster to create projects," students and faculty said.

"The new software is more team-oriented, helping students working on group projects," she said (Liz Sauerbrunn, mechanical engineering graduate student).

"The biggest difference this software is going to bring is innovation of the various domains," said Moschler, Institute of Systems Research robotics lab manager. "The software we have is unattached together. We have one software for modeling the system and another for modeling the software and another for modeling the hardware … So PLM [does] the whole thing; that's the big change for us."

"[Terps] can only move forward; they can't move backwards — that's the can-do attitude that characterizes the University of Maryland," Loh said. "We think big; we take risks; we persevere, and this extraordinary gift will enable us to keep moving forward in the areas of engineering and manufacturing."
Read more in this blog post on our academic partnership with the University of Maryland.
- Dora
Monday, October 14th, 2013
Today we are proud to announce the latest release of Siemens' NX™ software, NX 9.
NX9 includes new tools like synchronous technology for 2D greatly facilitate 2D data editing.

The introduction of fourth generation design (4GD) technology will enhance design productivity for massive assemblies in the Marine Industry NX Realize Shape™ software delivers a new state-of-the-art freeform design toolset with unmatched product development integration.

NX 9 also includes tighter PLM integration through Siemens' Active Workspace environment. There are many more enhancements throughout the integrated CAD/CAM/CAE solution. The enhancements in NX 9 are aimed at creating value by addressing issues common to multiple industries such as automotive, aerospace, shipbuilding, consumer products, machinery and others.
NX 9 is available for download today.
To learn more, go to the NX 9 web page.
Jerry
Thursday, October 10th, 2013
The University of Michigan is finishing up the World Solar Challenge and like any good real-world student project, they've experience interesting challenges along the way. We'll share more about the race challenges soon. In the meantime, I'd like you meet one of their team members who can share the mechanical engineering challenges in solar car design.
Garrett Simard is the lead mechanical engineer on the University of Michigan's solar car team.
Tell us about yourself. What got you interested in engineering?
"I've always been interested in the STEM side of things, in high school I went to a magnet school for math and science. I went in to college thinking I wanted to be material science engineer due to the fantastic AP chemistry class I had but after experiencing college organic chemistry I realized that it wasn't for me. Around that time I had started going to meetings for the Solar Car Team. I had found out about it at a fall activities event showcasing student groups almost around campus. The first division I went to meetings for was the strategy division. I was fascinated at the idea of car wide mathematics models after competing in math competitions in high school. I also started going to the mechanical meetings because I liked working with my hands. Andrew Hwang was the interim mechanical lead and showed me how to maintain the 2009 car, how to analyze parts for structural integrity, and how to design parts in another CAD system (while lamenting how he wished the team used NX!). I loved the work I was doing there, and jumped ship from the strategy division to full-time mechanical and declared into the major soon after."
What is your role as lead mechanical engineer on the U-M Solar Car team? How did you find out about the project?
"My role as mechanical lead during the design cycle mainly consisted of three things: making sure the car was safe, making sure everything fit together inter and intra-mechanically and training new recruits how to use our software suite, including the recently transition to NX 8.0. The beginning of the semester was truly a challenge for me. As one of a couple returning mechanical members but with only a year's worth of technical knowledge, I had to stay one step ahead of the rest of my division to ensure I'm always in a position to answer their questions. This included NX. I was still new to the software so I spent many nights with the online software training myself, as well as just CADing files from the previous car for practice. After learning the basics of how NX handled sketching and assemblies almost every other feature I use I've learned from just experimentation."
Tell us about the design process on Generation? What features of NX did you use most?
"Personally, I probably spent more time with assembly constraints than any other feature. I designed more and more later in the year (namely the roll cage and most of the steering system) but I had to spend most my time during design making sure everything fit properly. We didn't have Teamcenter at the time and I know that would have made things a lot easier, but there were nights where the new chassis would come out as well as the new front suspension, and I would spend hours making sure in CAD we could move the tracking rod and see the wheels turn appropriately."
What was it like machining the parts you designed?
"Machining parts designed by ourselves is, in my opinion, extremely gratifying. I started the summer with very little machining experience and had to go through over a month of training steps at our workspace, the Wilson Student Team Project Center. Now I have full access to CNC mills, lathes, a router and welding tools. I'm generally pretty clumsy with my hands, but being able to know that this thing I made is accurate to 5 thou, 1 thou, a few tenths for some holes gives me a sense of precision and control I can't find with a dremel. Having gone through the process of idea, design, manufacture, test (sometimes all in a span of under an hour) countless times to make things work I can't imagine how engineers who are not on real-world project teams learn to solve non-textbook problems."
Were there any lessons learned on the recent mock race?
"On the mock race, it was the first time I really felt we were one team not a lot of separate divisions – we weren't just testing the car we were testing the team. Mechanically we learned that some parts of the car were not as robust as we thought (the canopy opening mechanism broke day 2) but as a whole it was very successful in confirming a lot of our designs were sound. The main lesson learned was bring everything, we spent lots of time waiting for a spare component to be picked up from the workspace electrically. I spent hours one night trying to seat our motor tire because the one tire pump we brought broke and the air compressor decided that was a good night go die as well. We knew that over preparedness was better than being under prepared but didn't quite yet know how hard missing something would be."
What is your dream job after you graduate?
"Right now my dream job is to either be a structure or design engineer in the aviation or space industries. Almost everything we do (mass optimization, using the best materials, extended composite work) has direct ties in those industries and I like working on the leading edge of the engineering. After the race I'm almost immediately moving to Los Angeles for a seven-month SpaceX internship."
Thanks for answering our questions Garrett. Good luck in your return from the outback and your new gig at SpaceX where I'm sure you'll be honing even more skills on our software.
- Dora
Friday, October 4th, 2013
In just two days, the University of Michigan solar car team will begin their race in the World Solar Challenge from Darwin to Adelaide, Australia (3,000 km). You don't have to be an engineer or a U-M grad to get excited about this race or the design and engineering in their new car.
Tuesday, October 1st, 2013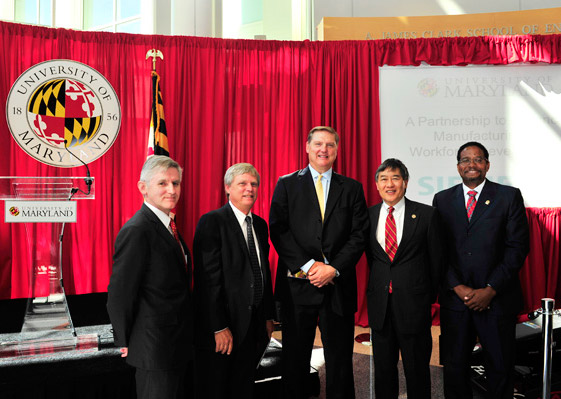 Last month we announced an important in-kind software grant to University of Maryland (UMD). This week I wanted to provide a little more of the story and tell you why Siemens and UMD are making this investment.
PLM industry analyst interview Brad Holtz is a UMD alum and was present at the press event. He provides this context:
"Siemens and University of Maryland are partnering to develop a global center of excellence for engineering education. It's important to note that every single UMD engineering student can have access to the whole suite of Siemens PLM software. This will make them better equipped to take leadership positions around the world. This has long-term value not just to UMD and Siemens but to the state of Maryland and the entire region."
Monday, September 30th, 2013
Mettler Toledo is a manufacturer of precision instruments for laboratory, industrial, and food retail use. Hilmar Brunn presented at the Siemens PLM Software analyst event on the company's use of PLM for innovation. He noted the heritage of the company as Swiss and American.
Hilmar shared how the company has automated the transfer of bill of materials (BOMs) from Teamcenter to SAP, speeding up the process from days to seconds.
Thursday, September 26th, 2013
For those of you out there who own a luxury yacht, this blog post is not for you. You are already well aware of the detailed process that went into developing your custom ship. For the rest of you, let's consider PLM in specialized shipbuilding. Dr. Klaus Borgschulte managing director of Lürssen, presented at the Siemens PLM analyst event. The company's history spans 140 years. Over the past decade, they have used Siemens PLM software to integrate systems to achieve their objectives.
PLM in shipbuilding – especially luxury yachts – is different from other industries. There are no prototypes. There is no series to the product line. Volume is low with just two to three produced each year. Lead times are long – between three and a half to seven years. Yet the product development objectives are the same as most manufacturers:
Reduce lead time
Manage higher output
Be more efficient with engineering resources
Learn more in my video interview with Klaus: (more…)
Monday, July 1st, 2013
This year close to 300 attendees joined us to learn and share their knowledge of Tecnomatix digital manufacturing at the digital manufacturing symposium held at Sao Paulo, Brazil.
We want to extend our gratitude to all the customer speakers who took their time to share their Tecnomatix success stories and how they achieved productivity gains with digital manufacturing technologies.
I was able to touch base with few of our customer speakers after their presentation and I asked them to talk briefly about their presentation. I'm sharing with you those post presentation interviews (more…)
Subscribe to this blog:
Follow Siemens PLM Software